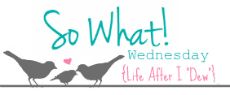 This week I'm linking up with Shannon for So What! Wednesday.

It is one of my favorite posts to read weekly and I am excited to FINALLY be linking up (I wonder why I didn't think of this sooner)! This week I am saying So What! To . . .
-When I went to pick up Olivia's med from her doctor's office I got on the elevator and quickly pushed the 2

nd

floor button over and over until the door shut so I wouldn't have to ride with another person.
-I rode the above elevator to the 2

nd

floor instead of taking the stairs.
-It took me 7 months to unpack from our trip to Mexico only for me to repack the suit case for Florida and I have no intentions of unpacking anytime in the near future for me or the girls.
-I haven't cleaned the girls Easter placemats on the table and now I think I am just going to throw them away.
-We are out of the basics like peanut butter and paper towels and I chose to go to story time and get lunch out over going to the store yesterday.
-I have stopped flat ironing Gracie hair in the morning. I would rather spend the 10 minutes reading blogs and enjoying a cup of tea. I figure most kids go to school with crazy hair why can't mine be one of them.
-I'm drinking wine and Skinnygirl like it's going out of style because I feel like if I get it all in now maybe when I'm pregers I won't miss it.
-I am missing my Blackberry keyboard. Who the eff can type on a touch screen?!?!
-I wear yoga pants ALL.THE.TIME. Even when we go somewhere and I managed to actually get dressed I come home and immediately put my yoga pants back on. When summer comes I will be rockin Capri yoga pants.
-In the winter I wear a USA sweatshirt that I have owned since I was 10. It's gross and I love it. Kelly hates it, like really hates it. I wonder if that is why recently it has gone missing.