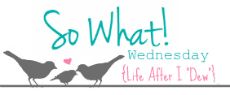 I'm back for another So What! Wednesday.
I LOVE Wednesday's now because of this and because it's hump day! Here's what I'm saying So What! to this week :
So What if . . .
- I bought the wrong kind of frozen strawberries for my smoothie, so yesterday my smoothie had strawberries loaded in sugar. Just an FYI the word sugar on the package was super
teeny tiny.
-I started wearing headbands again like All.The.Time. I guess I should invest in some new ones.
- I am actually considering going to the store to buy headbands that break my hair off.
- I said I was done blogging about weight loss and I'm at it again.
- I went to Old Navy to get O summer clothes using my $30 Old Navy cash and ended up spending WAY more. Who the hell can buy clothes for $60?
- I fail at putting on Girl Scout patches. Every month G earns a new patch and it takes me till the day of the meeting the next month to get the patch on only for her to come home with a new damn patch and start the process all over again.
- I use pasta bowls for WAY more than just pasta.
- I totally lie to O&G about going the speed limit. When they tell me "did you know the speed limit is 35 are you going 35?" I absolutely lie about my speed and it satisfies them.
Happy Hump Day!