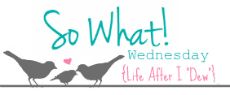 I'm linking up with Shannon for another round of So What! Wednesday.

This week I'm saying So What if . . .
- I ate 5 pieces of bread yesterday. Carb overload!
- I let my kitchen fall apart with messiness all.day.long and clean up right before my husband gets home.
- I didn't go to the grocery store Monday night like I should of, so G had a rummage of things for lunch yesterday including applesauce which I made her take a few bites of even though I know she doesn't enjoy it.
- I started counting down the days till June 1

st

on my calendar. I love the babies, but I am so ready to be done watching them.
- I no longer ask G "what's wrong" when I hear her crying- I just tell her to stop. She whines/cries so much it makes it hard to care when something bad actually does happens.
-I get semi obsessed with The Real Housewives' series and I'm so thankful they make the seasons back to back.
- I'm so happy spell check exists because I ALWAYS seem to spell Wednesday and answer wrong.