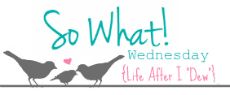 I am linking up with
Shannon
again for another week of So What! Wednesday. This week I'm saying so what if . . .
-I got a pedicure and totally did not shave my legs before (like several days of not shaving). My luck a man did my pedi- I'm just thankful he wore gloves. Which now that I'm thinking about it does not seem like a normal practice. I guess he also did not want to touch my hairy legs.
-I would like to murder the birds that sing outside my window at 5am! Can they not wait until like 7 am or better yet sing umm never!
-I haven't done laundry in like a
long
while, so G has run out of clean underwear. I have resorted to putting her in her clean size 4-5 panties that I never remembered to throw away.
-I have resorted to stalking the Internet for all blogs, articles, comments on anything related to the Grey trilogy. It's sick. Good news is I can feel the addiction getting better. I just don't know what to read next and I fear The Hunger Games is NOT for me. Any suggestions?
-I keep resorting to ordering take out or going out because I fail to go to the grocery store.
-I haven't printed or updated any family photos since December.
I could go on, but I decided to stop- my life feels like it has completely fallen apart since taking the babysitting gig 10 months ago. I must say that while I really feel "So What!" to these 6 items, I am feeling like I am failing at my domestic life as of late, but who am I kidding the laundry and grocery break is blissful- except in moments where I'm scouring the pantry for creative snacks and lunches. If I make it through these next 5 days and my house is still falling down I guess I can admit that I am NOT a domestic Goddess and I was fooling my husband in the beginning. We shall see . . .
Happy hump day!!!
****Apparently "resorted" is my word of the day since I used in like a million times in this post.